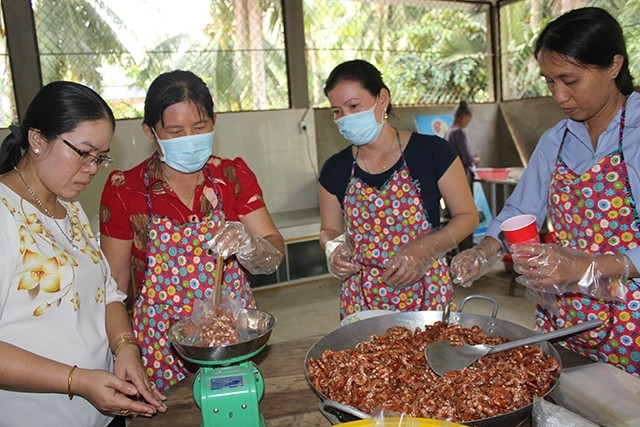 Locals in My Hung commune,Thanh Phu district escape poverty by making tiny shrimp fried with coconut. (Photo: nhandan.com.vn)
Since the Dong Khoi Start-up and Enterprise Development program began 2 years ago, Ben Tre has opened 900 new businesses, helped 4,100 households escape poverty, and reduced poverty 1.5% per year.
It has engaged nearly 12,000 households in a project to escape poverty by diversifying production, opened clubs for businessmen and farmers, and started a cooperative for safe farm produce.
Ben Tre has focused on communications, training courses, and startup projects. The province has invested more than 34 million USD in 770 startup projects.
Thanks to this program, promising business models have emerged, like that of Huynh Thanh Tam of Chau Thanh district.
In 2016, Tam was given 2,000 USD by the provincial Youth Union to realize his startup project on promoting local coconuts. Tam established a company that creates variously shaped fruits and trees.
"Farming techniques are the key to making beautiful gourd-shaped coconuts. Weather is also a factor. I'm working with many other producers to turn out a variety of products to meet market demand. Once we can supply enough for the domestic market, we'll think about exports. This year many people have asked us to ship items abroad as gifts," Tam explained.
Last March, Tan Phu commune's Youth Union set up an 11-member cooperative to grow polyscias fruticosa trees. Each member has boosted their income at least 430 USD a year.
Tran Hoang Liem, chairman of Tan Phu commune's People's Committee, said growing polyscias fruticosa trees was a startup model initiated by young people and local farmers are being encouraged to try it.
He said: "The commune's Youth Union has signed a contract with a company to buy all the cooperative's products for 3 years. The model has given disadvantaged youths a dependable income and takes advantage of unused land to grow polyscias fruticosa trees."
Under the Dong Khoi Start-up and Enterprise Development program, Ben Tre hopes to open 1,500 new businesses by 2020, help 16,000 households escape poverty, and reduce the province's poverty rate to less than 5.5%.
To reach these goals, Ben Tre will continue to improve its startup ecosystem, promote communications, training, administrative reforms, better policies, and increase the province's startup fund to 2.2 million USD.
Nguồn: vovworld.vn