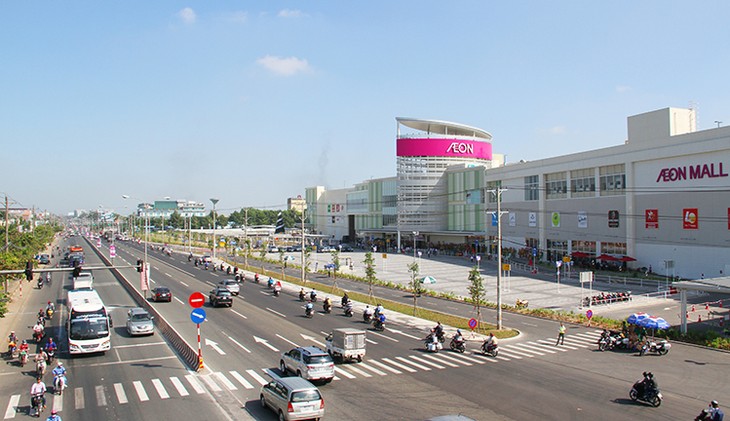 Binh Duong Avenue (Highway 13) – the life line route linking Binh Duong and Ho Chi Minh City. (Photo: binhduong.wtanet.org)
In the first half of this year, foreign investment in Binh Duong totaled 850 million USD, more than 60% of the target. Since 2016, the province has attracted 5.7 billion USD worth of FDI. At the current growth rate, Binh Duong will exceed the target of 7 billion USD set for its 5-year plan until 2020.
The achievements are attributed to Binh Duong's development of concentrated industrial parks to meet investors' needs.
Most of the projects are arranged in industrial parks and industrial clusters in line with Binh Duong"s FDI strategy and environmental protection requirements.
High-priority fields are the electrical industry, electronics, mechanics, pharmaceuticals, chemicals, trade, and services.
Yasuo Nishitohge, a Japanese investor at Vietnam-Singapore Industrial Park 1 in Thuận An town, said: "We are trying our best to deploy the licensed project at the most effectiveness. We are completely confident that Binh Duong province will grow faster and we hope that the relations between Vietnam and Japan will be more and more developed."
Binh Duong now has nearly 1.3 million domestic workers and more than 50,000 foreign workers. To create favorable conditions for FDI enterprises, Binh Duong is addressing issues related to social insurance, medical examinations and treatment for foreigners, and personal income tax deductions.
Binh Duong will invest more in building, expanding, or upgrading the main transportation routes within the province and linking it to key economic zones in the south.
Tran Thanh Liem, Chairman of the provincial People"s Committee, said that to attract big foreign projects, Binh Duong will continue to improve its investment environment and competitiveness and accelerate administrative reform.
It will also concentrate resources on improving its socio-economic infrastructure, training human resources, building housing for workers, and supplying workers to enterprises.
Mr. Liem said: "The provincial authorities and leaders of departments and agencies at all levels will continue to help businesses solve their problems and provide a supportive environment for entrepreneurs who want to do business in Binh Duong."
Binh Duong has stepped up its investment promotion activities in the US, the EU, Japan, South Korea, Singapore, and Taiwan (China). It is calling on foreign enterprises to invest in concentrated industrial parks, support industries, and high-tech projects.
Each department and sector has been assigned specific tasks to improve mechanisms, policies, and essential technical infrastructure, and urged to listen to and respond to the problems of local FDI businesses.
Nguồn: vovworld.vn