Dong Nai is home to more than 1,200 valid FDI projects with registered investment of more than 23 billion USD. Since 2014, an average of about 1.7 USD billion has been invested in the province's FDI projects each year. Besides large investors, the province has also called for foreign enterprises with medium-sized investment in high technology. Currently, 80% of FDI firms in the province have invested 10 million USD or more.
Mr. Kuga Shohei, General Director of YKK Vietnam Limited Compnay in Nhon Trach 3 Industrial Zone, Head of Japanese Business Group in Dong Nai said: "Our company has been operating in Dong Nai for more than 20 years; so far we have been supported by Dong Nai province, from infrastructure to other procedural issues. We are planning to expand our operations. We highly appreciate the investment environment in Dong Nai."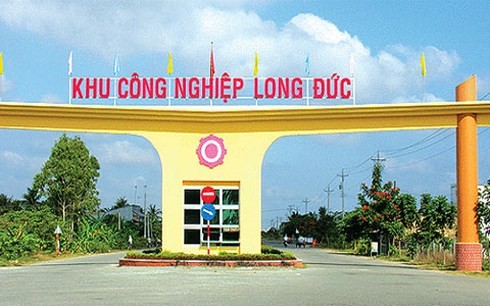 The entrance of Long Duc industrial park in Dong Nai province.
Since the establishment of the Dong Nai Public Administrative Center last year, there have always been representatives of enterprises, many of which have come to settle administrative procedures. Businesses said that the only point of contact is the Public Administrative Center to solve many different procedures help businesses save a lot of time and effort compared to having to go many times, many places as before. Mr. Tran Duc Toan, legal specialist of Ajinomoto Vietnam Company in Bien Hoa Industrial Zone 1, Dong Nai Province commented: "In the past, we had to go 5 or 6 times to many places and it took us one to two weeks after submitting the document to get all the administrative procedures done. Now, all the administrative procedures might take only about 1 hour to be done. In general, it has helped us a lot."
The reform of administrative procedures has become one of the noteworthy highlights of Dong Nai"s FDI attraction. Dong Nai organizes the promotion of on-the-spot investment, all issues and problems arising from investors are resolved, from specific issues to policy proposals. In the past year, the Board of Management of Dong Nai Industrial Zones has received 785 applications for issuance and adjustment of investment registration certificates, all of which are solved in time. At the one-stop shop of the Management Board of Dong Nai Industrial Zones, the processing time of the dossiers is reduced to an average of only 60-70% of the prescribed time. Mr. Mai Van Nhon, deputy head of Dong Nai Industrial Zones Authority, said: "We have reformed the administration to create favorable conditions for investors when their projects are established. We learn about some potential investors right from their own country, passing information to them through channels. We would like them to realize that Dong Nai is a good place for investment. We think investors will find that there is a culture of business approaching, convenient working environment, easy and friendly so that they invest and develop their businesses Dong Nai province."
The province attracted 902 million USD in foreign direct investment (FDI) in the first six months of the year, more than 90 percent of the yearly plan and up 48 percent from the same time in 2017.The FDI inflow came from the Republic of Korea, Taiwan (China), Japan, China, the British Virgin Islands and Germany.
Nguồn: vovworld.vn